Our team wants to welcome you to our Perfect Smiles office in Frankfort, Illinois! We use advanced dental technology for your care, and our exceptional dentists and team are prepared to answer questions, build relationships based on comprehensive service and provide our patients with just one more reason to smile. We cater to all your dental needs and use state-of-the-art technology to bring you excellent dental care. Our team members speak a variety of languages, including Greek, Spanish and Polish, and we provide a modern and serene environment where you will feel comfortable.
Meet Our Doctors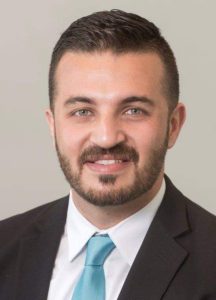 Dr. Ibrahim Alameri – Periodontist
Graduate University of Baghdad, College of Dentistry in 2008 • Completed the CWRU SODM Periodontics Fellowship Program in 2017 • Graduate CWRU Periodontics Program in 2021.
Upon graduation, Dr. Alameri worked as a general dentist prior to moving to the U.S., following his dream to further his education in dentistry.
"We are in the business of saving teeth" is his favorite quote.
In his spare time, he plays soccer, and he is an avid Barcelona FC fan. Both making and eating pizza are among his other hobbies