Having spent over 30 years serving the local community with comprehensive dentistry, our dentists and team know the importance of helping patients with their oral health. We understand that a healthy smile is deeply connected to a patient's view on dental care, and we aim to help them receive positive experiences. We believe that a patient's dental experience should be as comfortable and relaxing as possible. Our team will always go the extra mile to help you feel at home during your time with us, and we are always willing to help you with any of your oral health concerns in Palos Park, Illinois.
Meet Our Doctors

Dr. Carl A. Leonard – Prosthodontist, Implant
Dr. Carl A. Leonard received his Doctor of Dental Surgery degree from the University of Illinois College of Dentistry and thereafter completed an additional three-year program to earn his certificate in prosthodontics. Prior to earning his DDS and certificate in prosthodontics, Dr. Leonard graduated from Tulane University with degrees in economics as well as cellular and molecular biology. Dr. Leonard taught at the University of Illinois College of Dentistry as a clinical assistant professor in the Department of Prosthodontics.
Dr. Leonard is a member of the American College of Prosthodontics, Omicron Kappa Upsilon National Dental Honor Society-Sigma Chapter, the American Dental Association®, the Chicago Dental Society and the Illinois State Dental Society. While attending the University of Illinois College of Dentistry, Dr. Leonard received academic awards, including the Dr. Gould Memorial scholarship and General Assembly scholarship, and he was placed in the college's Advanced General Dentistry contest.
Dr. Leonard is proficient in both traditional and complex dental treatment. He has extensive training in crown and bridge dentistry and dental implant placement, as well as implant-supported restorations. Dr. Leonard prides himself on helping patients overcome dental conditions that limit their chewing and comfort with the use of dental implants or removable appliances to create healthy, comfortable and beautiful smiles.

Dr. Halikias is currently studying further at the Center for Esthetic Excellence, a top-level aesthetic institution renowned in the dental field. Dr. Halikias believes that the most rewarding aspect of her career is the ability to create beautiful, radiant new smiles that enhance and change the lives of her patients. Dr. Halikias is committed to excellence in dentistry. When she is away from the office, she enjoys the company of family and friends, traveling, biking, running and spending quality time with her children and husband.
Education
Doctor of Dental Surgery
Loyola School of Dental Surgery
Dental Residency
Pacific Aesthetic Continuum — San Francisco, California
Center for Esthetic Excellence — Seattle, Washington
Affiliations
American Academy of Cosmetic Dentistry
Academy of General Dentistry
Hellenic American Dental Society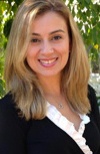 Dr. Sara Desouza-Iampaglia – Endodontist
Dr. Sara is an experienced dental professional with an international, multicultural background. Dr. Sara earned her Doctor of Dental Surgery (DDS) from Aracatuba School of Dentistry in São Paulo, Brazil, where she also received her specialty training in endodontics.
After working a few years in private practice in São Paulo, Dr. Sara relocated to Chicago, where she was accepted into the postgraduate program at the University of Illinois-Chicago College of Dentistry. She earned a master's degree (MS) in oral sciences at the same time, immersing herself in research projects, including extensive research in biomodification of root dentin using bioactive agents. Her passion for endodontics led her to pursue and complete her postdoctoral endodontic certification, and upon completion of the program, Dr. Sara received her specialty license to practice endodontics.
Dr. Sara is a strong believer in continuing education, which includes attending courses to stay acquainted with current trends in the field of endodontics. Dr. Sara is a member of the American Association of Endodontists, the American Dental Association® and the Edgar D. Coolidge Endodontics Study Club.